Brumbaugh Fruit & Fun Farm/Farmer's Daughter Bakery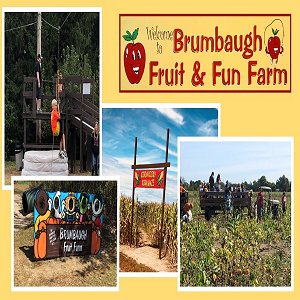 Fun Farm Hours:
Open Saturday's 11-7 and Sunday's 12-7 after Labor Day through November 1st.
Admission: $12 per person, Ages 3 and under and 65 and older free admission.
All activities are included in the admission price.
Market July, August, November Hours
Mon.-Fri. 9:00AM-5:00 PM Sat. 9:00AM-2:00PM
*The market will stay open until Thanksgiving unless apples run out first.  Call to confirm.
Market Fall Hours
(after Labor Day through October 31st)
Mon.-Fri. 9:00AM-6:00PM   Sat. 9:00-7:00PM   Sun. Noon-7:00PM
Farmers Daughter's Bakery
Bakery Year Round Hours Mon.- Fri. 6:00AM – 5:00PM
Bakery Fall Hours (after Labor Day through October 31st)
Mon.-Fri. 6:00AM – 5:00PM   Sat. 6:00AM-7:00PM   Sun. Noon-7:00PM
Contact
6420 Hollansburg Arcanum Rd
Arcanum, OH 45304