The Arcanum Volunteer Fire Department is a volunteer fire department. These honorable men volunteer, without pay, to place themselves in the most dangerous situations to serve and protect our community against fire disasters.
Village of Arcanum Volunteer Fire Department
208 Main Street
Arcanum, Ohio 45304
937-692-8170 (Business Calls ONLY)
Join us on Facebook
PLEASE! Do Not Call our Business Office for your Emergency! Call 911 or 937-548-2020!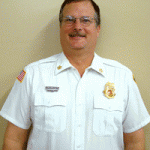 Fire Chief Kurt Troutwine
Kurt Troutwine became Arcanum's new fire chief in April of 2008. Chief Troutwine has been a volunteer for the Arcanum Fire Department since 1988. Prior to his service on the fire department, Kurt was a member of the Greenville Rescue from 1976 – 1988.
---
Rescue Squad Information
There are 29 active members of the rescue squad. 365 days a year, 24 hours a day the rescue team is staffed to respond to emergency calls.